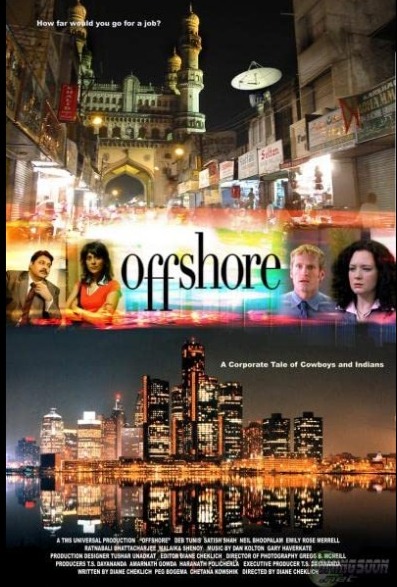 Offshore Movie by Diane Cheklich
Production Designer Tushar Unadkat
Director Diane Cheklich | Producer 21st Century Lions
*ing Satish Shah | English | USA 2005
Diane Cheklich is a talented independent screenwriter, film director, and producer based in Detroit. Her passion for storytelling and her unique sense of humor have earned her recognition in the film industry. Her most notable achievement is the award-winning feature film Offshore, an Indo-American movie shot in both the United States and India.
Cheklich's creative approach to filmmaking is evident in her work. She strives to tell stories with a specific rhythm and a unique sense of humor that resonates with audiences. Her dedication and hard work paid off with the success of Offshore, which won critical acclaim and numerous awards. The movie tells the story of a young Indian woman who travels to America to fulfill her dreams and encounters a diverse group of people who help her.
In addition to Offshore, Cheklich has written and directed several short films, including the award-winning Doctor Reddy, distributed through Ouat Media. The film tells the story of a psychiatrist who has a personal connection with one of her patients. It won several awards and was praised for its engaging storyline and strong performances.
Another of Cheklich's short films, Late, has also received recognition in the film festival circuit. The movie tells the story of a woman forced to confront her past when she gets a mysterious package in the mail. Late is in distribution through the Canadian Filmmakers Distribution Centre.
Diane Cheklich is a talented and innovative filmmaker who has significantly impacted the industry. Her dedication to storytelling and her ability to create unique and engaging films has earned her critical acclaim and a loyal fan base. Her work is a testament to her passion and talent and will inspire future filmmakers. Offshore Movie Diane Cheklich