2013 September 9 – Indie Film Lounge
During TIFF (Toronto International Film Festival) an Industry series organized by ReelWorld Film Festival, Canada
Panel: Marketing Strategies for Film-Makers
This year's dynamic list of Mentors (in alphabetical order): Ale, jandra Sosa (Director of Communications, Directors Guild of Canada), Alfons Adetuyi (Producer/Director/Writer, Inner City Films) Angela Argento (President, The Associates Talent and Literary Management Inc.), David Rumley (Business Representative, (IATSE Local 667, International Cinematographers Guild), Eric Jordan (Producer, The Film Works Ltd), Frances-Anne Solomon (Chief Executive Officer, CarribeanTales WorldWide Distribution Inc.), Gina Dineen (Manager, bravoFACT) Indra Escobar (Senior Production Advisor, ACTRA), Joel Goldberg (Owner and President, Joel Goldberg Productions Inc.), Lea Marin (Producer, National Film Board of Canada), Lisa Gotlieb (Original Programming Coordinator at Bell Media), Marguerite Pigott (Head of Creative Development, Super Channel), Marva Ollivierre (President, Doe Eye Media Productions Inc.), Meghan Baxter (Sales and Acquisitions Assistant, Cineflix), Richard Stursberg (Former CBC Executive Vice President and Former CEO at Telefilm Canada), Susan Karnay (Legal Counsel Content – Radio and TV, Rogers Communications), Tasso Lakas (Toronto Indie Productions Co-Coordinator, ACTRA), Terry Markus (Executive Producer and Entertainment Lawyer), Tom McGillis (President/Executive Producer/Writer, Fresh TV Inc.), Tushar Unadkat (CEO of MUKTA Advertising and Founder/Executive Director, Nouveau iDEA), Yuval Daniel (Screen Writer, Director)
2012 April 15 – Ticket To Bollywood
Organized by ReelWorld Film Festival, Canada
Panel: Discussion on Indian film-making and backstage stories inside Bollywood!
Moderator: Tushar Unadkat (MUKTA Advertising)
Panelists: Film-director Shakun Batra (Ek Mein Aur Ekk Tum) and Producer Prashant Shah (CEO, Founder of Bollywood Hollywood Productions and Executive Producer of RA.One, Line producer of My Name is Khan, Dostana, etc.)
2010 December 8 – World Premiere of "Inroads of India"
Organized by Mississauga Living Arts Centre, Canada
Panel: Discussion on documentary film "Inroads of India"
Moderator: Tushar Unadkat (MUKTA Advertising)
Panelists: Dr. B Taggar President of CIMT, film-director Hemant Bhatia and film-editor Samuel Dass
2010 April 8 – Face 2 Face
Industry series organized by ReelWorld Film Festival, Toronto, Canada
Panel: Marketing Strategies for Film-Makers
Mentor: Tushar Unadkat (MUKTA Advertising)

2010 May 21 – INDUSTRY SERIES
Organized by FILMI: South Asian Film Festival, Toronto
Panel: How to design an effectual soundtrack?
Moderator: Tushar Unadkat (MUKTA Advertising)
Panelists: Music Producer and Sound Engineer Vikas Kohli (Fat Labs), From New York Samrat Charkrabti composer (Film 'Fatakra') and Cyrus Sunder Singh (The spirit of South Asia, Film Club)
2009 May 21 – Career Talk
Industry series organized by TREBAS INSTITUTE, Toronto
Panel: Net-working and marketing strategies in the entertainment industry
Panelists Buck Moore (Modern Idea Communication) & Tushar Unadkat (MUKTA Advertising)
2009 Sep-Oct – A&M Workshops
Conducted 10 educational workshops for CIMT (Canadian Institute of Management and Technology)
Panel: Focus on Image Building, Advertising, Marketing and Brand Management.
Panelists: Tushar Unadkat (MUKTA Advertising)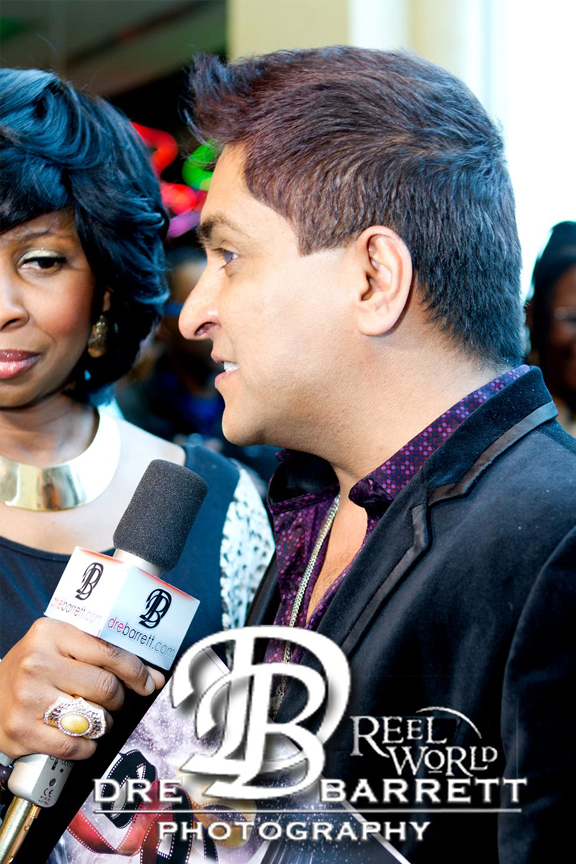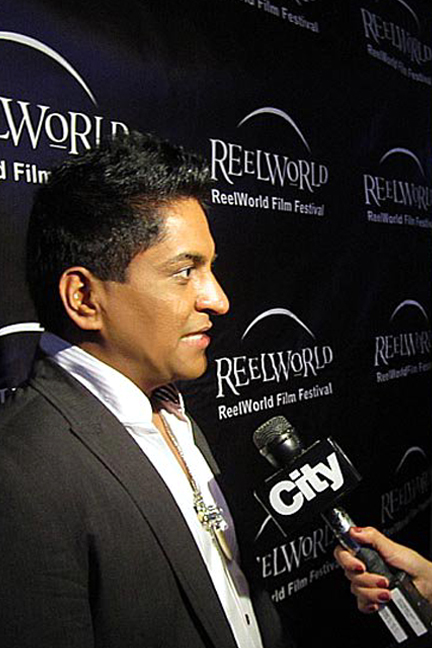 2009 April 16 – Face 2 Face
Industry series organized by ReelWorld Film Festival, Toronto, Canada
Panel: Marketing Strategies for Film-Makers
Panelists: Tushar Unadkat (MUKTA Advertising) and Jacqueline Nuwame (EvenTide Media)
2007 August 12 – INDUSTRY SERIES
Organized by FILMI: South Asian Film Festival, Toronto
Panel "A look at shooting your next project in India"
Moderator Tushar Unadkat (MUKTA Advertising)
Panelists Film-maker Diane Cheklich, Richie Mehta and Angad Balla
2007 January 5-9 – ORIGINS
Organized by IGNCA: Indira Gandhi National Centre for the Arts, Delhi, India
Panel "Creative tracks of the Indian Diaspora"
Panelists: Tushar Unadkat, Dr. Karan Singh, Ustad Amjad Ali Khan, Dr. K Chakravarty, Dr. Paul Polansky, Shri Ruud Chandra, Dr. Clem Seecharan, Prof. Mariana Budhos, Smt. Ambika Soni amongst other dignitaries.
2004 November 24 – LIGHTS, CAMERA, ACTION!
Organized by ICCC: Indo-Canada Chamber of Commerce, Toronto, Canada.
The theme of Lights, Camera, Action! is to share our views on selecting non-traditional career paths amongst the Indo-Canadians and to discuss the Film Industry issues.
Panel: "Challenges & solutions for non-traditional career paths"
Panelists: Ali Kazimi (Film Director), Sally Jones (Actor, Producer), Safiya Randera (Film Director), Richie Mehta (Film Producer), Tushar Unadkat (Technical Aspects)
2003 April 05 – AWAAZ
Organized by Net IP: Network of Indian Professionals, New York, USA
The theme of the AWAAZ conference is to address the voice of the South Asians in American Arts, Entertainment & Media in the 21st Century.
Panel: "South Asians in American Media"
Moderator: Savita Rampadarat, Sun Media
Panelists: Ameena Meer, Deepa Purohit, Vijai Nathan and Tushar Unadkat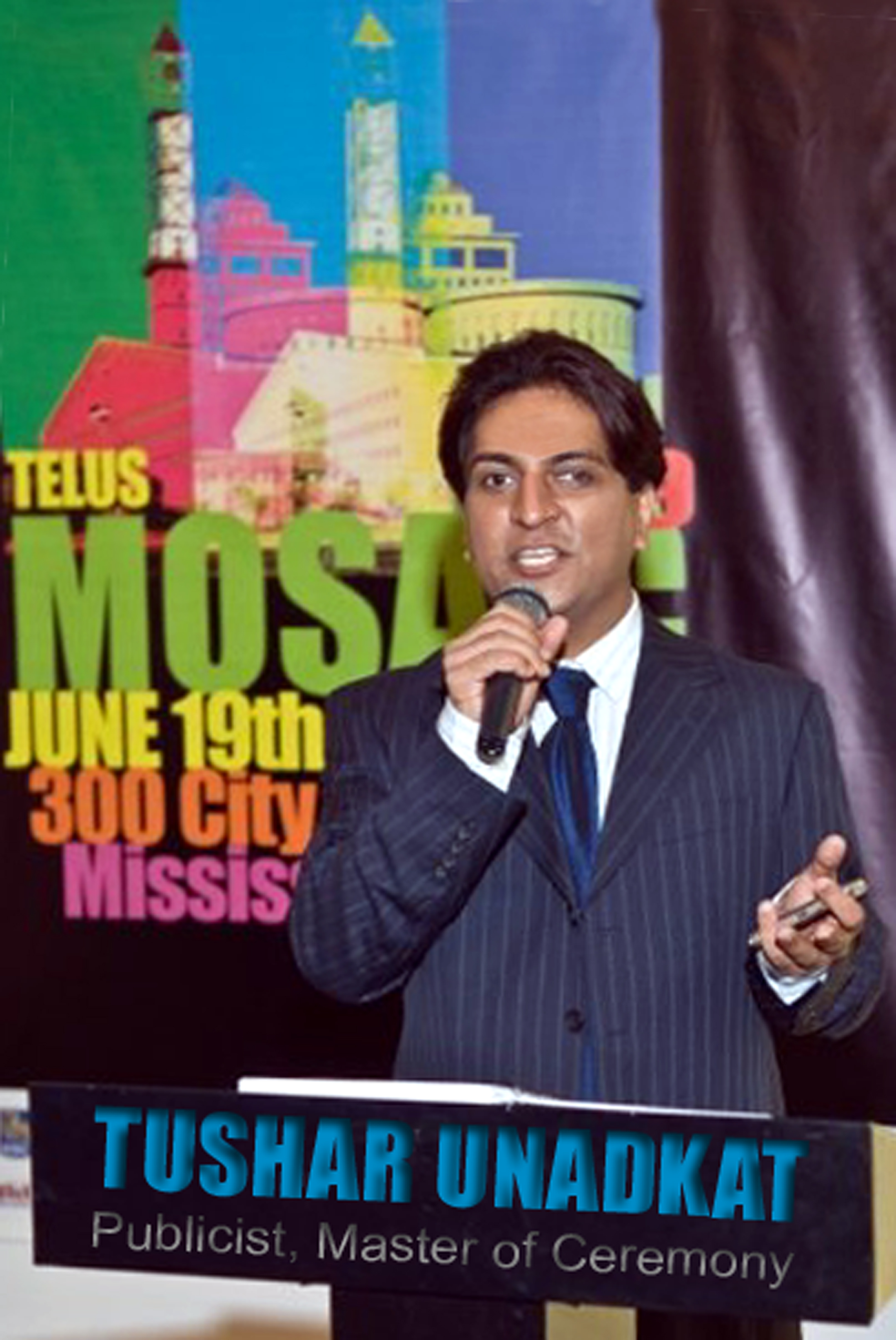 2000 October 19–21 – NYCAS: The New York Conference on Asian Studies, Albany, New York
The theme of the NYCAS is to address the "Asian Discourses Before and After Western Colonization and in the Next Millennium."
Panel 1: "Colonial and Post-Colonial Paradigms of Art in South Asia"
Chair: Dr. Shahid Refai, The College of Saint Rose
Panelists: Tushar Unadkat – "(De) Colonizing Art: Re-Shaping Aesthetic Sensibilities in South Asia"Panel 2: "An Indian Abroad: A Round Table on South Asian Diasporic Identity"
Moderator: Dr. DeWitt Ellinwood, The University at Albany
Panelists: Monisha Das Gupta of Syracuse University, Tushar Unadkat, Dr. Sunita Pardanani, Manoj Ajmera, Mubarak Shah Zuberi, and Dr. Kishan Rao Battu.